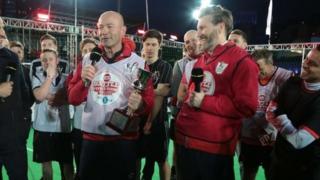 Team Shearer win Sport Relief challenge
Footballer Alan Shearer has beaten Robbie Savage to take home the Sport Relief trophy after his team won the five-a-side challenge.
More than 1000 people braved snow and rain to take part in the epic match, which lasted 57 hours.
The final score at the end of the challenge was 547 - 529 to team Shearer.
The challenge has raised more than £370,000 for Sport Relief.
Here are some of the best bits...