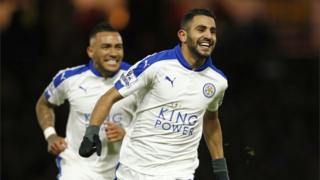 Reuters
Leicester City are proving to be the club to watch this Premier League season.
Right now they've got the most points and have only lost three times in 29 league games, winning 17.
But will they have enough points to walk away with the Premier League trophy?
Or will another team knock them off the top spot?
Leicester manager Claudio Ranieri isn't celebrating just yet. He says that: "Every match in the Premier League is a battle. Five points is nothing."
Leicester's next game is on Monday, 14 March when they host struggling Newcastle.
So, can Leicester get enough points to do it? Here's what you had to say...
Your comments
I think that Leicester city have the best the chance in league.
Elliot, Leicester
I think that either Tottenham or Arsenal will win the league, but they could come third.
Henry, Hertfordshire
I don't think that they will win, but they might come 3rd or 2nd.
Dasha, London
No, I do not think they can win.
Jamie, Methley
Thank you for your comments this chat page is now closed.