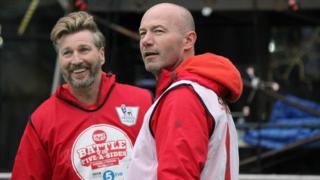 Last day of Sport-Relief footy challenge
Football legends Robbie Savage and Alan Shearer are into the final day of their big Sport-Relief challenge.
The 57 hour five-a-side challenge started on Thursday at 9:15am, and will finish today at 18:15pm.
Savage and Shearer will have played against around 1,000 people by the end of the challenge.
The current goal tally is 524-478 to Shearer's team.
They are playing for 57 hours, as this is the equivalent amount of time as Premier League club's entire season!
Ricky went to chat to some of the kids taking part...