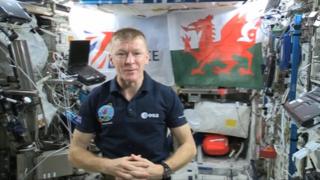 Tim Peake sends St David's Day message
Astronaut Tim Peake has sent Wales a St David's Day message from space.
He wished the nation "iechyd da" (good health) from the International Space Station (ISS) before hailing the nation as an "important part" of the UK space community.
With the flag of Wales draped in the background, Major Peake said it had provided "most of the glass for the solar panels" on the space station.
Every year on 1 March, the people of Wales, and others around the world, celebrate their patron saint, St David.