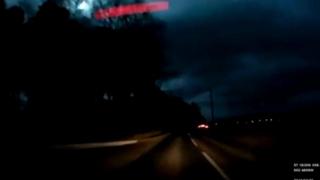 Mystery flash in sky caught on camera
Police in Aberdeen and Inverness in Scotland say they have been getting a large number of calls about a big, bright flash seen in the sky.
People have taken to social media to report seeing a blue, white or green light, with some saying they also heard a rumbling sound.
It is thought it could have been a meteor or may have been a sonic boom.
Jenni Morrison captured dash-cam footage of the flash as she was driving in Aberdeenshire at about 6.45pm on Monday.
She said: "It was absolutely weird. The sky lit up."