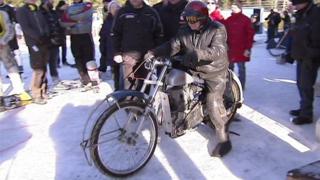 'Oldest ice racer' shows off skills
Olle Ahnstrom from Sweden might be 96-years-old but he's not ready to stop ice racing just yet.
He showed off his skills on his bike at the national ice racing championship in Sweden.
The bike has hundreds of spikes on the wheels to help it grip the icy ground.
He's said to be the oldest ice-racing driver.