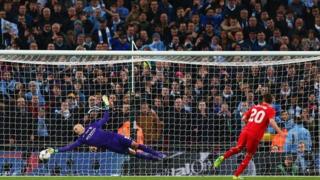 Getty Images
Willy Caballero was Manchester City's hero as they beat Liverpool on penalties to win the Capital One Cup at Wembley Stadium in London.
The 34-year-old Argentine goalkeeper spectacularly stopped Lucas, Philippe Coutinho and Adam Lallana in the shoot-out after he was selected ahead of first-choice keeper Joe Hart.
Fernandinho put City ahead just after the break after an error by Liverpool's otherwise heroic keeper Simon Mignolet. But two big misses from former Liverpool forward Raheem Sterling opened the door for Coutinho's late equaliser.
In the shootout, Fernandinho hit a post with City's first kick, but Jesus Navas and Sergio Aguero were on target, allowing Yaya Toure to score the winning penalty.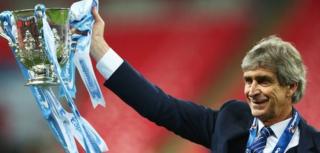 Getty Images
Man City boss Manuel Pellegrini said winning the League Cup was "a very important moment, and it's always very special to win a title at Wembley."
Liverpool boss Jurgen Kloppsaid after the defeat, "we will strike back. We have felt how it is to lose. It is not the best moment but on Monday morning maybe we can change everything."