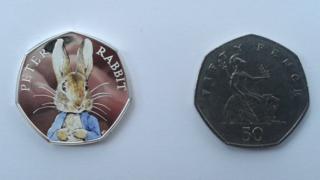 The Royal Mint
The Royal Mint are making a series of special coins to celebrate the 150th anniversary of the birth of Beatrix Potter.
Beatrix Potter was a famous author who wrote children's stories about lots of different animals, like Peter Rabbit, Squirrel Nutkin and Mrs Tiggy-Winkle.
Four coins will be made featuring different characters from her stories, and a special collector's 50p coin showing a colour picture of Peter Rabbit will also be released.
The Royal Mint, who make all of the UK's money, say the new coins are meant to give a snapshot of Britain over the past 1,000 years.