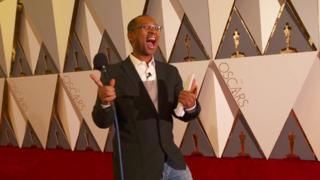 Behind the scenes at the Oscars
The Oscars takes place tonight in Los Angeles, in America and we've been taking a sneak peek behind the scenes on the red carpet.
The Oscars is one of the biggest award shows in the world, celebrating the best movies and performances of the year.
Actors and film-makers from all over the world will be making their way up the famous red carpet later this evening hoping to win an award.
BBC Reporter Lizo Mzimba has been finding out how much work goes into the awards show, and has been practising his posing on the red carpet!