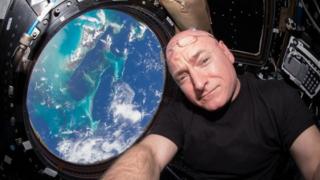 Astronaut Scott Kelly breaks record
Astronaut Scott Kelly has become a record-breaker, after spending a year living in space.
Scott has become the longest-serving American astronaut in space, after living on board the International Space Station for 340 days.
Kelly's mission will help Nasa to understand the long-term effects that living in space has on the body.
The results will help them with their long-term research, where they hope to send humans to live on Mars.
British Astronaut Tim Peake joined Kelly on board the ISS last year.
Scott Kelly will return back to Earth on Wednesday, landing in a remote part of Kazakhstan.