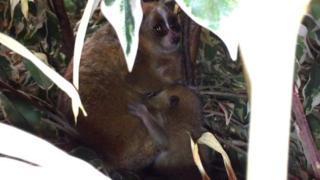 First glimpse of pygmy slow loris babies
Staff at Birmingham Wildlife Conservation Park are celebrating after the birth of two baby pygmy slow lorises.
The babies were born on 6 January to their parents, George and Doris.
They have huge eyes, and can grow to about the same size as a squirrel.
Conservation of pygmy slow lorises is really important because they are an endangered species.
This is the first time that the Park has been able to successfully breed the them.
Keepers say that the new arrivals will be important new members of the Park.
Footage courtesy of Birmingham Wildlife Conservation Park.