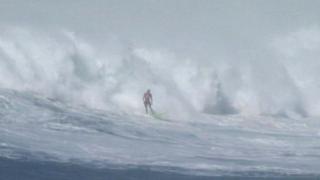 Surfer wins big with huge Hawaii wave
John John Florence surfed an 18 metre wave in Hawaii to win the Eddie Aikau surf contest.
The contest is famous for its massive waves, and it's not even held unless the waves in the area are between around 10 - 12 metres high.
At 23, John John Florence is one of the youngest competitors ever to take the prize.
He won more than £50.000 after beating 27 other competitors.