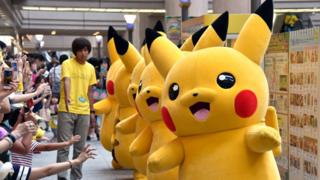 Getty Images
The Pokemon video game franchise turned 20 on Saturday, with gamers celebrating two decades of monster-catching.
The game was launched by a Japanese company back in 1996, and it grew to be one of the most successful video games of all time.
The series started as a black and white game on a hand held device called a gameboy, but led to dozens of sequels and spin-offs, as well as films and TV shows, and masses of merchandise.
We want to know why you think Pokemon is so successful, and how it compares to your other favourite games.
Your comments
I prefer Minecraft.
Lola, New Zealand
Pokemon is my favourite game ever, next to the Professor Layton series. I have played almost all the games and I hope they bring out a new one soon.
Lucy, England
I've never been a fan of Pokemon, I'm more for Treyarch and Activision games.
Harry, London, England
Pokemon has stayed so popular because it has strategy so you need to think. That's why it's so popular even today.
Sean, Cornwall, England
I prefer older games like Mario Kart WII and Mario and Sonic at The London 2012 Olympic Games.
Jessica, London, England
My favourite video game is Pokemon and Pikachu. I have no idea why Pokemon has stayed popular for a long time, however I do like the newer games.
Anees
Pokemon always has and always will be my favourite video game!
Lucy, Maidenhead, England
Pokemon is my fav game with sonic the hedgehog and Pokemon is my fav because I used to collect Pokemon cards since I was 3 and I'm just 8 so that means that I still collect Pokemon cards for 5 years!!!!!
Patrick, Cornwall, England
I prefer newer games and cute games.
Amy, Bedfordshire, England
Pokemon is a great game. It is great and I am not surprised it is still up 😄😄😄
Elli, Ireland
This chat page is now closed. Thank you for your comments.