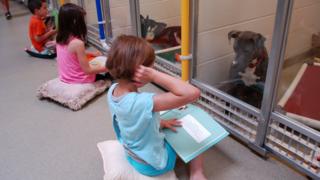 Humane Society of Missouri
A kennel in Missouri in the US has found a new way to comfort its dogs, and help children learn to read at the same time.
Kids aged 6-15 years have set to work at the kennel, practicing their reading in the company of their new puppy pals, to help them feel less anxious.
Dogs in the shelter can sometimes be shy around people, so by getting children to read to them, kennel staff hope the dogs will be happier in the company of humans.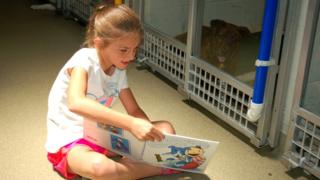 Humane Society of Missouri
The children all get training to help them understand the dog's body language, to know how it's feeling.
When the dogs come forward, they can reward them with treats.
The dogs are getting more confident, thanks to their new friends. And it's a great way to practice reading too!