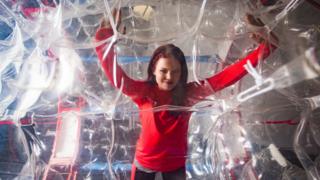 16.20 pm:
Blue Peter's Lindsey Russell has ended her attempt to cross the sea between Northern Ireland and Scotland in a giant inflatable barrel after weather conditions changed.
After zorbing for an amazing 17 nautical miles, she had to stop because of bad weather.
The Blue Peter team say that Lindsey is safe and on her way back to dry land.
They said that Blue Peter is all about having a go and getting stuck in, and that's what Lindsey did today for Sport Relief.
12.45 pm:
Lindsey has completed 12.7 miles of her epic challenge! Time for a break with spaghetti hoops and chocolate.
9.00 am: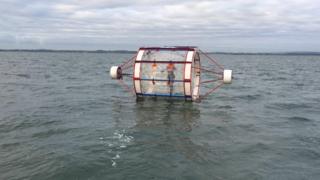 Sport Relief
The sun's come up, and Lindsey is well on her way.
25th Feb 6.30 am: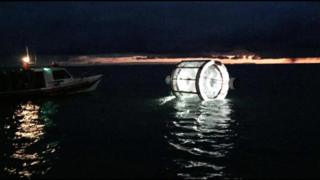 Lindsey set off from Donaghadee beach in Northern Ireland. It's expected to take her up to 14 hours to cross the 32 kilometres of open water to Scotland.
23rd Feb:
Lindsey spoke to Ricky just before setting off for Northern Ireland.