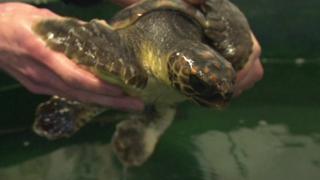 Stranded turtle makes amazing recovery
A tiny loggerhead turtle that wasn't expected to survive after being stranded on a beach, has made a brilliant recovery.
Tallulah was found in Cornwall at the beginning of January. She was so cold she couldn't move or eat, and had to be tube-fed every 90 minutes.
But she's now eating for herself and could be released back into the wild.
Her keepers say her favourite food is squid, but she's also a big fan of mackerel.