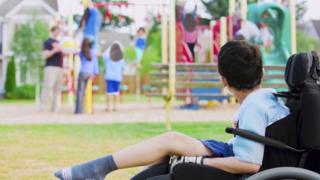 Thinkstock
A new report says half of disabled children have been turned away from playgrounds or playgroups in England and Wales.
Research was carried out by one of the UK's leading disability charities, Sense. They say many play settings are not accessible to children with multiple needs.
The report blames a lack of money to pay for the facilities, as well as negative attitudes towards children with disabilities.
The charity say that not being able to access play facilities "means that disabled children don't have the same chance to form friendships".
They hope that more money will be spent on improving facilities and services for children with disabilities.