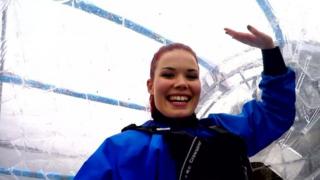 Lindsey prepares for zorbing marathon
Blue Peter's Lindsey is setting off for her epic Sport Relief Challenge.
She will 'walk on water' in a giant inflatable bubble called a zorb.
She'll be running from Northern Ireland across the sea to Scotland.
It will take her hours and hours and she's had to do some serious training to get ready.
She's told Ricky how she feels just before setting off.