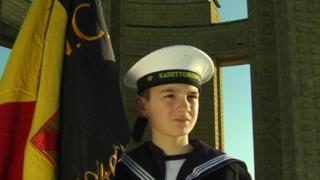 Meet the youngest flag bearer in Belgium
An 11-year-old boy has become the youngest flag bearer in Belgium.
A flag bearer is someone who holds the flag during ceremonies to commemorate the First and Second World Wars.
It's something that usually only adults do but Seppe got into flag bearing because his Grandad also did it.
Seppe now wants to carry on being a flag bearer to honour his Grandad.
"I like it to commemorate the people from the World Wars. Most other flag bearers are older than forty. I don't mind, because it's my passion and it happens to be with elderly people." Seppe says.