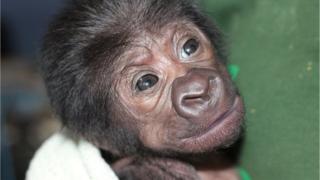 Baby gorilla born after rare operation
A baby gorilla was born at Bristol Zoo after surviving a rare operation carried out by a doctor who normally delivers human babies.
Professor David Cahill, who normally works at St Michael's Hospital in the city, was brought in to help after the mum became ill.
It took three hours to get the baby out safely.
The operation, called a caesarean section, is really rare for gorillas and has only been carried out nine times around the world.
The baby, which hasn't got a name yet, weighed 2lbs 10oz.
She's now being looked after by a team of experienced gorilla keepers - when she's strong enough she'll be back with her mum.
The baby's mum, Kera, is also getting better and being cared for by vets at the zoo.
Ricky's got the full story.