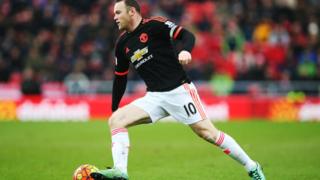 Getty Images
Manchester United striker Wayne Rooney could miss the club's next eight matches because of a knee injury. He could also miss two England friendlies.
Rooney was injured during United's match against Sunderland.
Manchester United manager Louis Van Gaal said that his side would cope without the star player.
"He's a guy who wants to go until the end and if he's feeling a pain he doesn't want to go off. He wants to win," he said
Rooney has scored seven goals in the last nine games for United.