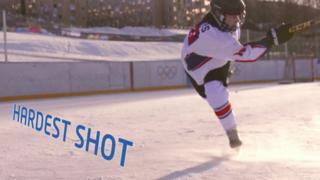 Meet Britain's solo ice hockey star
You might think ice hockey's a team sport - but meet Verity Lewis, she's a hockey ace all by herself.
She's just taken part in the ice hockey skills challenge at the Youth Winter Olympics in Norway.
Players show off their skills in a series of challenges like who can make the fastest shot and who has the most control of the puck.
She just missed out on a chance to compete in the finals but picked up a personal best in each of the six skills.
Watch her in action...