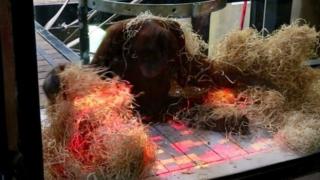 Orangutans try gaming in Australian zoo
Lots of kids love gaming during their free time. But did you know that some orangutans do too?
Researchers at Melbourne Zoo, in Australia, have designed some special motion-controlled games for their primate friends.
The world's first project of its kind, run by the University of Melbourne, aims to better understand the ways orangutans deal with technology and how they make choices.
The games use the Microsoft Xbox Kinect to shine red dots onto the floor of the orangutan's enclosure. Kinect 3D technology can then follow the animals' movements when they choose to play with the projections.
Watch Martin's report.
Footage courtesy of ABC's Behind the News (Australia)