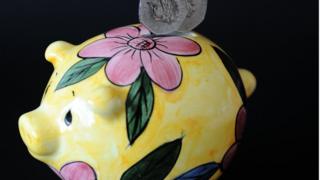 PA
Dragons Den businesswoman Sarah Willingham says children should have to do chores for pocket money.
She says kids should have to earn money from their parents by helping out rather than just expecting it.
A recent survey says that 85% of children don't have to help out to get spending money.
The Dragons Den star says it doesn't help children to understand the value of money which is really important when you grow up.

Thank you for your comments. This chat page is now closed.
Your Comments
I have to earn my money and I think you should.
Mimi, Altrincham, England
I do have to do jobs do get my pocket money but they are easy jobs.
Fraser, Linlithgow, Scotland
I have to make my bed to get pocket money.
Abby, Sheffield, England
I play the guitar to earn my pocket money and I think it's wrong that people just get it free.
Aryan, Watford, England
I think we should work for pocket money because otherwise it's just like we get a present every week.
Megan, Buntingford, England
I think that kids should have to work to get pocket money but they should have a set amount each week.
Orla, Devon, England
I don't need to work for my pocket money but I think that I should start doing it more often.
Amber, Scotland
I think you should earn your own money because it can help you be independent.
Varuni, Birmingham
I personally don't earn pocket money by doing chores. I can understand both sides of the argument but I don't feel it will affect me in later life.
Amy, Edinburgh, Scotland
For my pocket money I have to vacuum the house, do the dishes, empty and fill the dishwasher and tidy my bedroom and I get £2.50 a week!
Izzy, Shropshire
You must ask your parent, teacher or guardian for permission before you send us a comment.
We may show your comment on our website or in our TV bulletins. We'll show your first name and which town you're from - but we won't use your details for anything else.