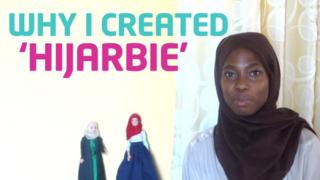 'Hijarbie to inspire young Muslim women'
A hijab-wearing Barbie has become a star on Instagram.
The creator, Haneefah Adam, takes Barbie dolls and dresses them up in hijabs she has hand-stitched herself in mini size.
Pictures of 'Hijarbie' on social media have already received thousands of likes.
Newsround spoke to Haneefah, who says she wants the doll to help inspire young Muslim women to feel more confident.