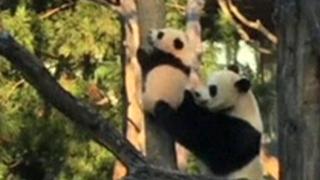 Baby panda climbs his first tree
Bei Bei the panda cub has climbed his first tree at a zoo in America.
The adventurous cub got a bit stuck part-way up the tree trunk, but luckily his mum, Mei Xang, was on hand to help him back down.
The Smithsonian National Zoo in Washington USA videoed the moment and shared it online.
See the cute cub getting helped out by his mum.