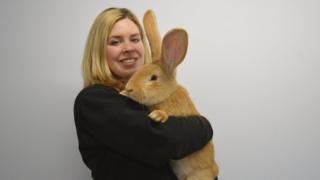 Scottish SPCA
A giant rabbit called Atlas is searching for a new home after he grew too big for his owner to look after.
The seven month old continental giant rabbit is being looked after at a rescue centre in Scotland.
He's already the size of a small dog but because he's still young he could grow even bigger.
Scottish SPCA centre manager Anna O'Donnell said "He is a very friendly rabbit who loves attention and getting cuddles."
Most giants continental rabbits weigh around 6kg, but some are as heavy as 10kg.

They come in a range of colours including white, black, sandy and grey.

They need a lot of care and space so are not the ideal pet for children.
Source: Pets4Homes
"Atlas is also an inquisitive boy who makes everyone laugh with his mischievous character."
The charity says the new owner will have to have experience of looking after this type of rabbit and lots of space so he can run around.