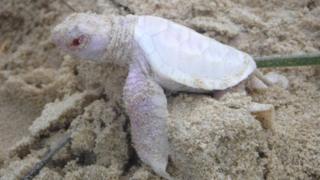 Coolum and North Shore Coast Care
Wildlife volunteers say they were stunned to find an extremely rare albino turtle on a beach in Australia.
The tiny creature was one of 122 hatchlings from a green turtle nest on Castaways Beach on Queensland's Sunshine Coast.
Linda Warneminde who leads the group who discovered him said:
"It was very chipper and just took off into the water as happy as can be."
"He wasn't sick, he was just white."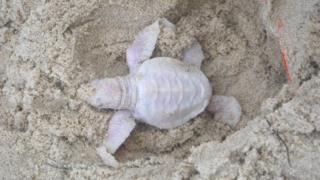 Coolum and North Shore Coast Care
Jayne Walton, who filmed the turtle, said she was very excited about the experience.
"He was beautiful, you could see his flippers were pink, like the blood flowing," Ms Walton said.
"I just hope he survives out in the big sea. He was very fast, very keen to get in the water."