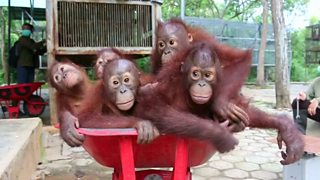 The school that teaches orangutans
Orangutans living at a sanctuary in Indonesia are being prepared for release back into the wild.
Forest fires and poaching have led to a decrease in the population.
Some baby orangutans don't have parents to teach them how to look after themselves.
International Animal Rescue has more than 100 of the animals at its sanctuary in Ketapang in western Kaliman province.
It's set up a forest school so the orangutans can play and learn how to survive in the wild.
It can take up to eight years for the babies to be ready to be released.