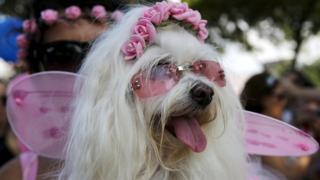 Fancy dress dogs take to Rio carnival
Hundreds of dogs in fancy dress costumes took to the streets of Rio de Janeiro, Brazil, on Saturday for the yearly carnival pet parade.
The Blocao festival attracts dozens of pooches, putting their best paw forward dressed as everything from little pink fairies and hot dogs, to princesses and super heroes.
It's all part of Rio de Janeiro's world-famous carnival celebrations, which attracts more than six million people to the streets of Rio during the month of February.
Check out the clip to see some of the dogs' colourful costumes.