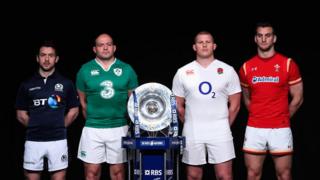 Getty Images
The Six Nations tournament kicks off this weekend, and it's set to be one of the most interesting battles in some time.
Rugby union fans across the country are gearing up for a six-week competition like no other.
What matches are you looking forward to? Which players do you want to see in action? Who do you think will win?
We asked you for your thoughts.
I think Wales are going to win because they were so good in the World Cup.
Max, Cwmbran, Wales
I think England should win because they are a brilliant team.
Bob, England
Scotland will win because of their fantastic World Cup and great players.
Robbie, Glasgow, Scotland
I think that Wales will win the Six Nations because they are the best team. I enjoy playing rugby and I would love to play for my country one day.
Owain, Wales
I think England are going to win it because they started well.
Kieran, Northamptonshire, England
I like England to win the Six Nations rugby. They're my favourite team to win the title.
James, Ayr, Scotland
I think Ireland will win because they won it last year.
John Anthony, Armagh, Northern Ireland
I hope Wales will win because I love to play and watch rugby plus I am from WALES!
Laura, Cwmbran, Wales
I think that Wales will win because they are an amazing team.
Menna, Wigton, England
I want to see Leigh Halfpenny because he went to the same school that I do.
Rhianna, Swansea, Wales
I am looking forward to seeing England play. I hope they win this year.
Jessica, London, England
This chat page is now closed. Thanks for sending us your messages