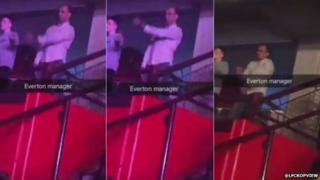 Everton boss caught dad-dancing
Everton manager Roberto Martinez has been spotted doing a bit of dad dancing at a music concert in Manchester.
Mobile phone footage of the Toffees boss cutting some shapes at a Jason Derulo gig has been shared thousands of times on social media.
The boss said he was a "big fan" of the American pop star.
And he defended his dad style shapes saying: "I have better moves, believe me. Probably that was the worst move."