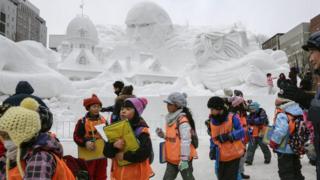 Sculptures made from snow
A snow and ice festival in Northern Japan saw some pretty impressive sculptures made out of the cold stuff.
This year the festival features over 200 sculptures including iconic Asian buildings carved out of snow and ice.
A ten metre tall model of a high speed train is also one of the big attractions.
Organisers hope over two million people will visit from all over the country, and abroad, to see the sculptures.