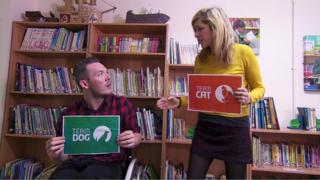 Team Cat or Team Dog?
It's the question pet owners all over the world argue about: Which pet is best - cats or dogs?
A new BBC documentary's been looking into their best and worst traits. They've filmed both animals, using special cameras to compare how they communicate, how much energy they have and how clever they are.
Here at Newsround, it's something our reporters, Jenny and Martin, have pretty strong opinions about...
So we sent them to a Primary School to find out what you guys think.
Cats V Dogs: Which is Best? is on BBC One at 8pm Thursday 4 February