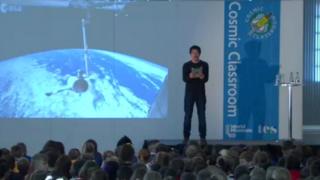 Tim Peake spoke to hundreds of school pupils in a live webcast from the International Space Station.
School kids have been submitting their questions for the British astronaut.
Hundreds have travelled to the World Museum in Liverpool to see the live stream, and others are watching from classrooms around the country.
Here are the highlights of Tim's talk:
Tim says hello
Tim shows off his microphone skills
Tim explains gravity on board the ISS
Tim touches his toes in zero-gravity
Tim explains what happens to your heart in space
Tim puts a fizzy tablet inside a bubble and shows what happens
Tim tells us about his favourite button on the ISS