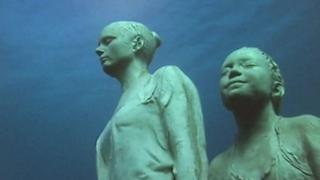 The museum built 15 metres under sea
An underwater museum has been created in the Canary Islands by placing around 300 statues under the sea.
The sculptures are located 15 metres under the water in Lanzarote.
The eco-friendly concrete statues are of current Lanzarote residents doing everyday activities, and are expected to last for 300 years.
However, visitors will need diving equipment to enjoy Jason DeCaires' artwork.