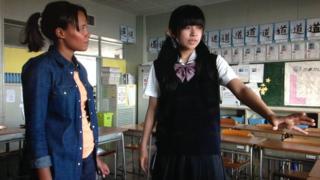 'I feel very lucky': Hinako's story
On 11 March 2011, one of the most powerful earthquakes ever, which started under the sea, shook the north-east of Japan.
The earthquake was measured at force 9.0 magnitude, high enough to trigger a huge wave called a tsunami.
The wave crashed onto the shore destroying huge areas. Thousands of people lost their lives.
A nuclear power plant was also damaged and began leaking radiation, which led to the world's worst nuclear disaster for 25 years.
Hinako was one of the children whose lives changed on that day. Leah went to Japan to meet her to hear about what happened.