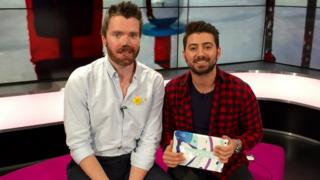 Explorer breaks South Pole record
Explorer, Luke Robertson, has become the first Scot to complete a solo, unassisted and unsupported trek to the South Pole.
Mr Robertson, who was raising money for charity, has also become the youngest person from the UK to achieve the goal.
He started his journey on 5 December and reached the pole after a 39-day journey, across 730 miles of snow and ice, with temperatures of about -50C and winds of 100mph.
It is estimated he ate about 6,500 calories each day, but burnt off about 10,000 dragging his equipment, which initially weighed 130kg.
He celebrated Christmas by changing his underwear for the first time in 21 days.
Ricky asked what the first thing he did on return was...