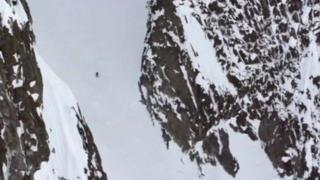 Skier survives massive mountain fall
A professional skier from America had a lucky escape when she took a big tumble down a mountain in Alaska.
Angel Collinson was doing a stunt for a winter sports movie, when she hit an icy patch and lost control.
A video of her fall has been seen 350,000 times on YouTube and is being used to promote ski safety.
Amazingly, she only suffered injuries to two fingers, and some bruising.
Angel is a professionally trained stunt person, this is not something anyone should try themselves.
Video courtesy of Teton Gravity Research/Paradise Waits