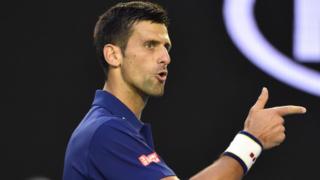 Getty Images
World number one Novak Djokovic will play Roger Federer in the men's semi-final at the Australian Open.
Djokovic beat Japan's Kei Nishikori in his quarter-final match in straight sets, 6-3, 6-2, 6-4.
He admitted after the match that he hadn't practiced before his match because he'd played five sets against Gilles Simon.
"I was determined, focused. In important points and moments I managed to stay composed and make him play an extra shot," he said.