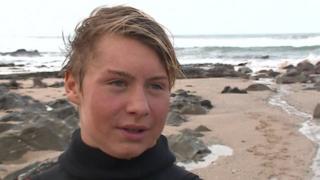 Teenager takes on surf challenge
Kamron Matthews, 15, is thought to be the youngest person to ride huge 20 foot waves at Newquay's famous Cribbar reef.
The area in Cornwall in the South West of England is really popular with surfers.
The Cribbar is well-known because at certain times of the year really steep waves are formed when the weather and tides come together.
Kamron took on the challenge and lots of his family were watching his amazing achievement.