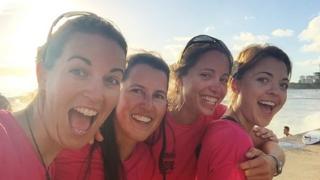 Women rowers make history crossing Pacific Ocean
A team of female rowers have broken two World records after successfully rowing across the Pacific Ocean.
They left San Francisco in America last April and crossed the finish line in Cairns, Australia, on Monday.
They've become not only the first all-female team to row the Pacific Ocean, but the first team of four to do it.
The epic adventure took three months longer than originally planned.
They rowed continuously as pairs in two-hour shifts, sleeping 90 minutes at a time.
They ate 5,000 calories a day, eating freeze-dried meals with protein bars, as well as chocolate, fruit and nuts.
But they took a Christmas cake on board as a treat on Christmas Day.
They stopped off twice during the 9,200-mile trip, in Hawaii and Samoa, before making their way to Australia.