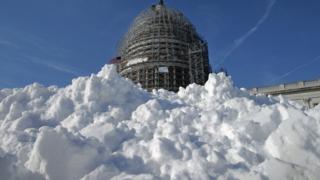 Millions in USA prepare for blizzard
People living in the north east of America have been told to prepare for a major winter storm.
Around 50 million people could be affected by the storm, which is expected to cause blizzards and white-out conditions in some states and bring traffic to a standstill.
In some areas up to 60cm of snow is expected within hours.
The rush for supplies has led to long queues and empty shelves at supermarkets.
Watch the clip to see how the weather's been so far...