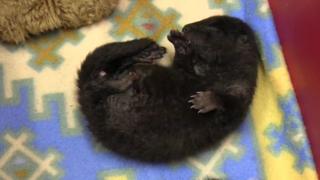 Baby otters found on building site
Three baby otters are being cared for at a wildlife hospital in Florida in America after being found when builders were digging up a driveway.
The five-week-olds are doing well but still need six feeds each day.
The tiny patients aren't expected to be able to survive on their own until the summer when it's hoped they'll eventually be moved to a large, outdoor enclosure with a pool and will be fed live food.
Watch the clip to see the baby otters...