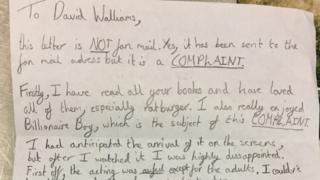 David Walliams
As a judge on Britain's Got Talent, David Walliams is used to being the person giving out his opinions, but as a children's author he's had a taste of what it's like on the other side, from one fan.
Madeleine was so disappointed by the TV version of one of her favourite David Walliams' books, that she wrote to tell him what was wrong with it.
Although she sent the letter to his fan mail address, Madeleine made it clear that it was 'NOT fan mail', and said that 'it is a COMPLAINT'.
What didn't Madeleine like
Madeleine was upset that so much had been changed from the book, including one character being dropped completely, and the names of others being changed.
She said there was 'no reason whatsoever' for Dave Grubb's name being changed to George Grubb.
Finally, the 11-year-old felt that the main character, Joe, was changed so that he seemed like a 'sad boy' instead of a 'spoiled brat' like in the book.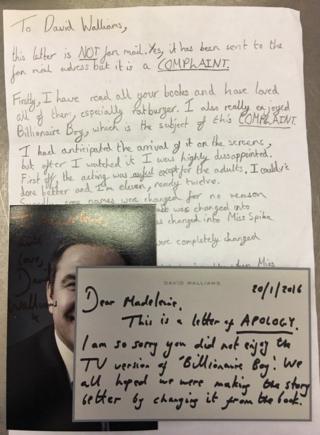 David Walliams
Madeleine wasn't the only person who was unimpressed - another fan wrote to tell David that the film was 'a bit disappointing' because so much was missing, and he couldn't understand it well.
David Walliams replied to Madeleine with a 'letter of APOLOGY' saying that he was very sorry that she didn't enjoy the TV version of the story.
He said that they had hoped the changes would make the story better, and that 'the good thing is the book will always be the book, and it will never be better than how it appears in your imagination.'