The UK has a rich history of making a type of metal called steel, which is used in things like buildings and transport.
The British industry is struggling because of competition from China, which sells its steel more cheaply.
The Tata Steel company has announced planning to sell its UK factories, putting thousands of jobs at risk.
The government says it's working hard to help save the British steel industry.
In January, Tata Steel confirmed plans to cut 1,050 jobs in the UK, including 750 at Port Talbot in Wales.
The plant in Port Talbot is the biggest steelworks in the UK and lots of people in the town work there.
Tata Steel say that they have to cut the jobs in order to save the company, so that 3,500 people who are still employed don't lose their jobs as well.
On 20 January, a government taskforce met for the first time to work on a plan to help the workers affected.
Bad year for UK steel workers
The latest job cuts follow on from the closure of a steelworks plant in Redcar, in north-east England, in October 2015.
The Redcar steelworks employed thousands of people living in the seaside town.
The steelworks had been part of the community there for almost 100 years and lots of kids have parents and grandparents who worked there.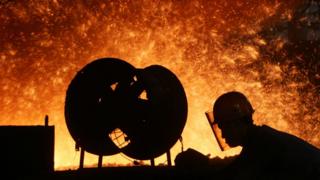 Getty Images
SSI, who owned the steel plant, said they were shutting Redcar down because they were having trouble keeping the factory going, as not many people around the world were buying their steel anymore.
People think this could be for a number of different reasons, including that big buyers are getting their steel from other steelworks around the world, who are selling it for a cheaper price.
However, the people who work at the steelworks argue that things could improve if they got a bit of help from the government to keep things going.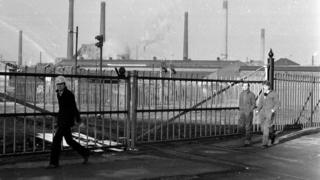 Getty Images
Now that Redcar has closed its doors, there are only two steelworks sites left in the UK.
One is in Port Talbot, in Wales, and the other is in Scunthorpe, in England.
When steelworks have closed in the past, it has had a big impact on the towns and people who live near them.
An example of this is when the Corby steelworks closed in Northamptonshire in the early 1980s.
Around 11,000 people lost their jobs and that meant about three out of 10 people in the town could not find work.
When Scotland's Ravenscraig Steelworks was closed in 1992 it was eventually knocked down and lots of people lost their jobs. Many other businesses who relied on the steelworks also closed.
However, there is now a project in Ravenscraig to help transform the former steelworks area into a new town.