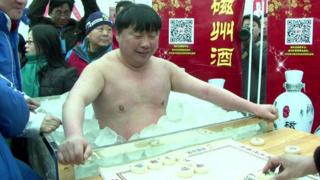 Man wins chilly chess challenge
A Chinese man nicknamed the "Polar Bear" has won a really chilly challenge.
Not only did he stay in a bath full of ice for more than an hour, he played chess at the same time.
Cui Deyi won several games of Chinese chess while he was chilling out so looks like he didn't suffer from brain freeze.
The clever chap is obviously just really cool.
Take a look.