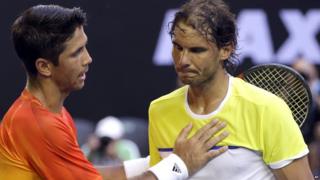 AP
Rafael Nadal has lost in the first round of the Australian Open for the first time in his career.
He was beaten by Fernando Verdasco in a thrilling five-set match, with Verdasco winning 7-6 (8-6) 4-6 3-6 7-6 (4-7) 6-2.
The loss follows a disappointing run for Nadal at Grand Slam tournaments over the past year.
Speaking to reporters after the match, Nadal said: "The real thing is I was not aggressive enough with my forehand during the whole match.
"I didn't feel it. I tried. I fought. I was ready to do it and I didn't. So I am sad for that."