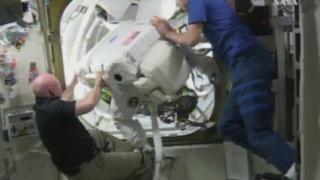 Peake is in the airlock
Tim Peake is scheduled to step out in space today from his base on board the International Space Station.
Major Peake and his colleague, Tim Kopra, will try to repair a power unit on the outside of the station.
Spacewalks are a routine part of life on board the ISS. They are usually carried out to complete repairs or gather material for experiments.
Tim launched in to space in December to board the station which is 400km (248 miles) above the earth