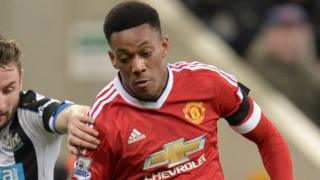 AFP
Manchester United striker Anthony Martial has been named as one of the fastest Premier League players this season.
Although Martial didn't score in a 3-3 draw with Newcastle on Tuesday he did clock an incredible speed of 22 miles per hour in a five second sprint across the pitch.
He matched the record speed set by Leicester City player Jamie Vardy.
The French footballer has impressed United fans since he moved to the side in summer 2015.